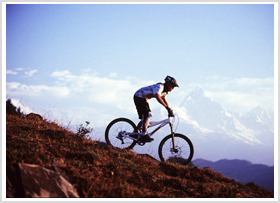 Pokhara is situated at about 827 meter from sea level, and is located 124 miles (about 200 km) west of Kathmandu.It is Headquater fo West Reagion Nepal. Can be reached by Fly in 30 minutes or in 5 hours by overland. It is the next destination after Kathmandu for many adventure and pleasure trips in and around Pokhara. It is often called the enchanting Himalayan valley with a heart of major actions and adventures.

Surrounded by beautiful snow-caped mountains, with a magnificent lake of crystal-clear pure Himalayan water, all-year round pleasing weather, and friendly Pokhralis will greet you with a smile and leave you with the most unforgettable moments in your life. So pack up your bag, load your camera, and get ready for Pokhara experience thorugh Mountain Bikes.
Fact About this Bike tours

Highlight of This bike tours

Trip Start From: Kathmandu.
Trip end: Kathmandu
Transport : By Private Busor Fly
Trek Grade: Moderate
Culture: Buddhist, Hindu and Muslim.
Trail condition: Up/Down/flat
Maximum High: 1450m.
Accommodation: Hotel/Guest hous

Multipal Culture.
Beautiful Mountain view.
Beautiful Lake Stupa.
Tibetan Refugie Camp.
Sunrise /Sunset with mountain View.
Sarangkot View Point.
Good Food as well.
Day 1: Drive or Fly to Pokhara .And few hour test ride around Pokhara ready for next days biking .Stay in Pokhara.

Day 2: Bike up to Sarangkot which is about 15 km from the lakeside, mostly on paved road and about 10 km off-road towards Naudanda and hit again off road with many dusty mostly downhill to Fewa lake. Bike back to the Hotel.

Day 3: On this day we bike through the main town Mahendrapul and turn right on off-road after crossing the British Gorkha's Camp, which is mostly mixed trail with unless 2 or 3 short carry up and down about 10min. in between Ghachok and Lhachok after crossing Bhurjung Khola and back again on Tarmac road to Hemja (Tibetan Refugee Camp). Awesome mountain views on this trail as Annapurna South and Fishtail.

DAY 4: Today's almost 10% off-road biking through Davis Fall and cross the river. About 7km Jeep track up towards Kristi Danda. Enjoy the spectacular mountain views of Dhaulagiri, Nilgiri, Annapurna and the majestic Fishtail mountain. We turn towards Nirmal Pokhari on fantastic off-road with single trail down to the Seti River and slowly head back to hotel.

DAY 5: From the hotel we bike along the highway to Tansen and Butwal. We cross right to the off-road climbing approx. 3 km on Jeep track that goes as far as 12km from the main road and nice single trail will began with technical down and ups through Biswa Shanti Stupa (World Peace Pagoda) to the dam side.

DAY 6: Today we bike 14km to the Pokhara - Kathmandu Highway and then turn left to Begnas Lake. After lunch steep climbing about 6km off-road up to Kalikasthan (15-20minute carry up) then 7 km wide Jeep track down to Bijayapur Khola and continue on biking on highway and back to the hotel.