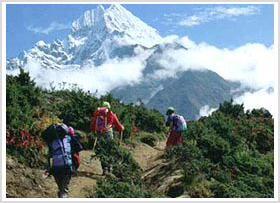 It is a long trek and show us the most beautiful and remote areas of the country. Jumla - Jomsom trek is recommended to expert trekkers who are used to trek in to great heights. This trek crosses more than eleven mountain passes, seven of them higher than 5,000 m. Thus this is a difficult route compensated however by the beauty of the country-side and kindness of the people. This trekking tour is one of the best that can be carried out in the whole of the Himalayas.
We start our trek from Jumal, after two small flights to Nepalgunj on first day and to Jumlal on second day. The route goes through high and remote alpine area and passes and finally come to beautiful Shey Phoksundo Lake (3600m). From here we will trek via Numala and Bagala pass and get to Upper Dolpo, Do Tarap, the beautiful village of this region. Trek towards to Charkha, probably the most beautiful village of high altitude. Then we will trek towards Jomson after passing Sangda La, the highest pass of this trek. Clients carry only daypack and walk on their own pace. Average hiking per day is 7-8 hrs.
Highlights on this tour: 
Bone & Buddhist culture & monasteries, high passes, Beautiful Charkha and Dho tara village, Shey Phoksundo Lake, Excellent dry and desert landscape, superb Mountain View, spectacular scenery, abundant wildlife, impressive display of wild flower, friendly people and many more…
Season: 
April till November
Tour grade: 
Extreme Challenging
Group size 
From two persons


Day 01 Arrival and transfer to hotel/welcome dinner (D) 
Day 02 Day at Leisure /Hotel (B) 
Day 03 Fly to Nepalgunj /hotel (B, L, D) 
Day 04 Fly to Jumla (2370m) (B, L, D) 
Day 05 Trek to Ghoti Chaur 2630m (B, L, D) 
Day 06 Trek to Churta (3010m) (B, L, D) 
Day 07 Trek to Kaigaon via Mauria La (3820m) (B, L, D) 
Day 08 Trek to Hurikot (B, L, D) 
Day 09 Trek to Toijem (2920m) (B, L, D) 
Day 10 Trek to Kagmara Phedi (4000m) (B, L, D) 
Day 11 Trek to Daju via Kagmara La (5115m) (B, L, D) 
Day 12 Trek to Phoksundo Tal/Lake (3730m) via Pungmi (B, L, D)  
Day 13 Trek to Baga La Base Camp (4465m) (B, L, D) 
Day 14 Trek to Numala base camp (4180m) via (5190m) Bagala pass (B, L, D) 
Day 15 Trek to Dho Tarap (4040m) via Numa La (5318m) (B, L, D) 
Day 16 Trek to Tarap (B, L, D) 
Day 17 Trek to Charkha Phedi (4530m) (B, L, D) 
Day 18 Trek to Charkha (4120m) via Charkha La (4920) (B, L, D) 
Day 19 Trek to Yak Kharka (4750m) (B, L, D) 
Day 20 Trek to Sangda Phedi (5120m) via Sangda La (5460m) (B, L, D) 
Day 21 Trek to Sangda (3700m) (B, L, D) 
Day 22 Trek to Dangarjong (3290m) (B, L, D) 
Day 23 Trek to Jomsom (B, L, D) 
Day 24 Fly to Pokhara /Hotel (B)  
Day 25 Day at leisure at PKR /Hotel (B) 
Day 26 Drive to KTM by bus /Hotel (B) 
Day 27 Day at leisure /farewell dinner /Hotel (B, D) 
Day 28 Drive to airport for return flight (B,)

Note: The itinerary can be customized according to your duration of holiday. Similarly hotel can be upgraded or downgraded depend on your budget.