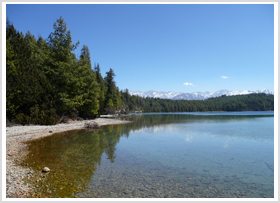 Rara Lake trek In the western part of the country Nepal Jumla and Rara lie in the remote Karnali region, north-west of Kathmandu. The Rara region is made-up of long ridges covered with temperate forests and alpine pastures enclosing high valleys. Summer rainfall is low, but winter snow can be heavy and persistent. Since the region is fairly high and free from monsoon thunder-storms, the summer season is ideal for trekking. Winters are cold, but the autumn seasons trekking is rewarded with a profusion of alpine flowers.
The Rara Lake Trekking trail is very much "off the beaten path" and affords glimpses of culture and scenery very different from those in the rest of the country. The centerpiece of the park is the biggest lake of Nepal. Along mountain paths and a series of picturesque villages, one reaches the magnificent banks of Rara Lake. The park includes Trans- Himalayan valley with high ridges covered with forest and alpine pastures. Being among the local people with their distinctive culture and traditions gives the visitor a unique experience and makes for a wonderful holiday. The primitive people give the trekker a look backward and a chance to reflect on his own modern society and development.
The great high mountains scenery enchants and fascinate as always. Like most of Nepal, Rara National Park is a naturalist's dream. Animals like the gaur, serow, musk deer, yellow-throated martin and a wide variety of birds such as the impeyan pheasant, Kalij and dove are ever present. Trekkers carry only daypack and walk at their own pace. Average hiking per day will be 6-7 hrs.
Day 01 Arrival and transfer to hotel/welcome dinner (D) 
Day 02 Day at Leisure /Hotel (B) 
Day 03 Fly to Nepaljung / Hotel (B, L, D) 
Day 04 Fly from Nepalgunj to Jumla (2370m) (B, L, D) 
Day 05 Trek to Danphe Kanga (3130m) (B, L, D) 
Day 06 Trek to Chautha (2770m) (B, L, D) 
Day 07 Trek to Dhotu (3190m) (B, L, D) 
Day 08 Trek to Rara Lake (3040m) (B, L, D) 
Day 09 Explore around Rara Lake (B, L, D) 
Day 10 Trek to Ghorasain (3271m) (B, L, D) 
Day 11 Trek to Sinja (2438m) (B, L, D) 
Day 12 Trek to Jaljala Chaur (3350m) (B, L, D) 
Day 13 Trek to Jumla (2370m) (B, L, D) 
Day 14 Fly to KTM via Nepalgunj /Hotel (B) 
Day 15 Day at leisure/farewell dinner/Hotel (B, L, D) 
Day 16 Drive to airport for return flight (B, L, D)
Note: The itinerary can be customized according to your duration of holiday. Similarly hotel can be upgraded or downgraded depend on your budget.