The Best and Famous Mountain Flight in the World.
What is Everest Mouain flight and why I suggest not to miss this when you visit Nepal ?
Everest Mountain Flight or Everest Himalayan Flight Tour is an hour long early morning flight from Kathmandu Nepal by domestic airlines which flies on the north east of Nepal along with he high Himalayan ranges to Mt. Everest and other High Himalaya. As we know that the top of the world is Mount Everest, to see this the main purpose of this flight along with the other 8 Highest peaks in the world. After doing this Everest flight you may have some idea about the magnificent Himalayas and will be proud enough to say that you have see the highest or tallest point of this world. Trip2himalaya Tour and Holidays Operator Nepal offers Nepal Tour Holidays Pacakges with Everest Mountain Flight in Nepal.
The Cost for Everest mountain Flight is : 182US$ Per Person
Airport Tax NRS (Nepalese Rupee) 175.00 payable direct on day of tour. Personal Insurance aren not included. Hotel pick up and drop to from arirport is include this price.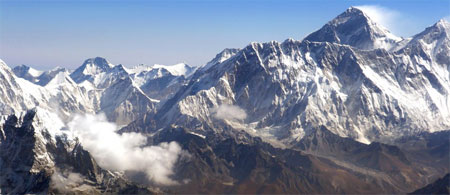 Everey day in the morning all year round, but best time for the flight is September through end of May. incase the flight is terminated due to bad weather, paid amount is fully refundable.  ere are eight peaks in Nepal which stands above 8000 meter high among the fourteen all over the world. Some of them are Lhotse 8516 m, Nuptse 7855 m, Amadablam 6812 m, Chamlang 7319 m, Makalu 8463 m, Gauri Shankar 7134 m, Langtang Lirung 7234 m, Annapurna 8,091 m, Manasalu 8,136 m, Ganesh 7,429 m, Kanchenjunga 8,586, etc.
Yeti Airline's, Buddha Airline's, Guna Air and Agni Air Offer one hour Everest Flight takes off from Kathmandu Airport and flies east in modern Jetstream 41 and Beach 19 Aircraft fully pressurized and air-conditioned fleet, where one can see magnificent mountains from a height of around 25,000 feet. A must take tour of the majestic Himalayas. It's an hour of breathtaking scenic beauty of the Mighty Mountains. It is a sparkling clear journey across the world's highest peaks, Mt. Everest, Kanchenjunga – 3rd highest, Lhoste, Makalu, Cho Oyu, to name just a few including the Tibetan plateau.