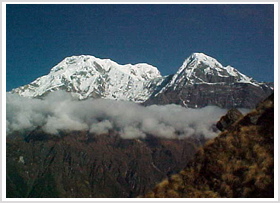 Mardi Himal is the name given to the feature of the long rising ridge and its summit that from the south-westerly lower slope of Mount Machhapuchhare, the famous triangular skyline that is seen from the Phewa Lake at Pokhara. As we shall soon see from a closer and more westerly vantage point, the mountain possesses twin peak - thus its name, Machhapuchhare, which is English means "Fish tail". 
Machhapuchhare is the most southerly high point of the Annaourna Massif, the awesomely majestic grouping of mountains in the central Himalaya that includes 5 of the 12 highest mountains in the world - all at close of very close quarters to our route.
Ours is an eight day expedition climbing through the forest and on above the tree line and on up to from our high altitude camp at 4,100 m. (13,600 ft.). We establish this "High camp" with a view to our climbing to the knoll of Mardi Himal 5,588 m. (18500 ft) from where there are the most amazing close quarter''s views of all.
Now descending first through the forest, a different route takes us steeply down to the upper Mardi Khola, the torrent that has been the ice and the snow of the Mardi Himal. Although remote and still away from all the much-used trekking routes, our expedition now takes on the moods of the warm valleys and the friendly villages. Here, as we make our way along the bank of the Mardi Khola from the hill- side village of siding, down through the lovely fields, past the simple farms and over the "interesting" bridges, there is no doubt this indeed the idyllic Nepali countryside.
TAKING PART IN THIS EXPEDITION calls on some determination and stamina. However its demands should not be exaggerated. If you are averagely fit and under 35 (or above averagely fit and under 50) you will manage well, you will cope with some aches and pains, with chilly night, with the occasionally blister perhaps, and you will be pleased with what you achieve. The higher altitudes are addressed by having 2 consecutive afternoons of rest and acclimatization (at "Low camp and High Camp").The trek starts in Pokhara. Clients carry daypack only and walk at their own pace. The duration of the trek is about 6-7 hr a day.
Day 01 Arrival and transfer to hotel/welcome dinner (D) 
Day 02 Day at leisure /Hotel (B) 
Day 03 To Pokhara (850m.) by bus or flight / hotel (B) 
Day 04 Drive to Phedi & trek to Dhampus (1600m) (B, L, D) 
Day 05 Trek to Machhapuchre forest (B, L, D) 
Day 06 Camp at 2250m (B, L, D) 
Day 07 Camp at 3400m (B, L, D) 
Day 08 Camp at 4100m (B, L, D) 
Day 09 Climb at 4900m to 5100m and back to low camp (4100m) (B, L, D) 
Day 10 Camp at Near to Mardi River (2800m) (B, L, D) 
Day 11 Trek and drive to Pokhara Overnight Hotel (B, L) 
Day 12 Drive to KTM (1350m) /Hotel (B) 
Day 13 Day at leisure/ farewell dinner /Hotel (B, D) 
Day 14 Drive to Airport for Return flight (B)
Note: The itinerary can be customized according to your duration of holiday. Similarly hotel can be upgraded or downgraded depend on your budget.