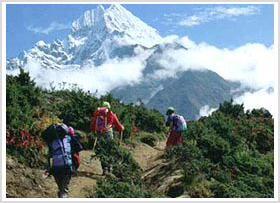 The Lower Dolpo region is best known of the many isolated high Himalayan valleys across northern Nepal, Dolpo preserves one of the last remnants of traditional Tibetan culture. Legend says it's a one of the "hidden valleys" created by Guru Rinpoche as a refuge for devout Buddhists in troubled times. Surrounded by high mountains including the Dhaulagiri massif to the south-east and cut off by high passes closed by snow half the year, Dolpo's easiest access is from Tibet, where its people emigrated from perhaps 1000 years ago. 
 
Dolpo shelters about 5000 people, whose lives revolve around Buddhism, barley, and yaks; their villages (over 4270 meters) are among the highest settlements on earth. A large portion of Dolpo has been set aside as Shey - Phoksumdo National Park, at 3555 square km Nepal's largest. Meant to preserve a complete example of the trans-Himalayan ecosystem, the park shelters blue sheep, Himalayan black bear, leopards, wolves, and the exclusive snow leopard.
We start our trek from Juphal, after two small flights to Nepalgunj on first day and to Juphal on second day. Trekking through nice village in the beginning and through high and remote alpine area and passes later and finally come to beautiful Shey Phoksundo Lake (3600m). From here we will trek back to Juphal again with different route where we catch flight to Kathmandu.  The route goes through high passes like Numala & Bagala and very remote area of the country so we are rewarded with excellent view of mountain and virgin Tibetan culture on the way.
As this is Nepal's one of the most demanding trek and goes through Numala  & Bagala pass and remote area of the country where we should make lot of ascend and descend we therefore recommend to attempt only for experience trekkers. Clients carry only daypack and walk on their own pace. Average hiking per day in Dhulagiri trek 7-8 hrs.
Day 01 Arrival and transfer to hotel/welcome dinner. (D) 
Day 02 Day at Leisure /Hotel. (B) 
Day 03 Fly to Nepalgunj /hotel (B, L, D) 
Day 04 Fly to Juphal (2345m) & trek to Dunai(B, L, D) 
Day 05 Trek to Shartara (2520m) (B, L, D) 
Day 06 Trek to Khanigaon (2650) (B, L, D) 
Day 07 Trek to Lahini (3160m) (B, L, D) 
Day 08 Trek to Dho Tarap (4040m) (B, L, D) 
Day 09 Rest and explore Dho Tarap village (B, L, D) 
Day 10 Trek to Numula Base camp (4180) (B, L, D) 
Day 11 Trek to Bagala base camp (4465) via 5318m Numala pass (B, L, D) 
Day 12 Trek to other side of Bagala base camp via 5190 Bagala pass (B, L, D) 
Day 13 Trek to Shey Phuksundo 3730m (Ringmo) (B, L, D) 
Day 14 Day hike around Shey Phoksundo Lake (3600m) (B, L, D) 
Day 15 Trek to Sepka (B, L, D) 
Day 16 Trek to Rahagaon (B, L, D) 
Day 17 Trek to Dunai (2050m) (B, L, D) 
Day 18 Trek to Juphal (2345m) (B, L, D) 
Day 19 Fly to KTM via Nepalgunj /Hotel (B) 
Day 20 Day at leisure /farewell dinner /hotel (B, D) 
Day 21 Drive to airport for return flight (B)

Note: The itinerary can be customized according to your duration of holiday. Similarly hotel can be upgraded or downgraded depend on your budget.