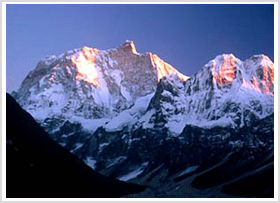 Kangchanjunga, the third highest mountain in the world, is located in the eastern part of Nepal. The Milke Danda Range in eastern Nepal and north of Taplejung is a sanctuary for Nepal's National flower, the rhododendron. The foothills of these mountains get upwards of 3,500 mm of rain per year, triple the amount of annual rainfall of western Nepal. The effect is most visible in the thick, verdant forests and heavy undergrowth. Even at the height of the dry season, the jungle trails are lush and green. The entire trek through the humid forests of the Tamur River basin is an orchid enthusiast's delight!
This trek approaches the South Face Base Camp of the world's third highest peak, Kanchenjunga [8598m] which lies in the eastern frontier of Nepal. Mt. Kanchenjunga, one of the world's most challenging peaks to climb, geographically lies on the Nepal-Sikkim (India) border. The trek begins right after landing at a STOL airstrip in Taplejung and goes through fascinating green, crop growing villages and pristine forests to the awe-inspiring South Face Base Camp at Ramche at [4360m], before crossing to the north side of Kanchenjunga via the Mirgin La, the highest pass at [4663m]. The glacial excursion around Ramche is truly an unforgettable experience. The return trek via Ghunsa is easier as most of the path passes along the river valley.
Day 01: Arrival Kathmandu.  
Day 02: Sightseeing in Kathmandu.  
Day 03: Fly Kathmandu to Biratnagar.  
Day 04: Fly to Sukhetar, trek to Lali Kharka [2220m].  
Day 05: Trek to Keswa [2100m].  
Day 06: Trek to Mamanke [2000m].  
Day 07: Trek to Yamphudin [1650m].  
Day 08: Trek to Lamite Jungle camp [2920m].  
Day 09: Trek to Torontan [3080m].  
Day 10: Trek to Tseram [3750m].  
Day 11: Trek to Ramche [4360m]. 
Day 12: Rest day in Ramche – Exploration.  
Day 13: Trekking beyond the Mirgin La [4663m].  
Day 14: Trek to Gunsa [3475m].  
Day 15: Trek to Kyapra [2300m].  
Day 16: Trek to Sakathum [1600m].  
Day 17: Trek to Chirwa [1180m].  
Day 18: Trek to Phurumba.  
Day 19: Trek to Taplejung - Suketar [2300m]. 
Day 20: Fly to Kathmandu via Biratnagar. 
Day 21: Depart Kathmandu.