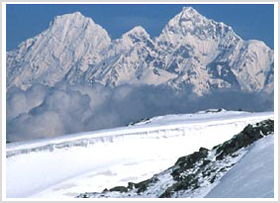 Ganesh Himal, not frequented by many tourists and it situated in central Nepal, northwest of Kathmandu the terraced hillsides seem to climb to the sky. Many interesting ethnic groups a mixed of lifestyle offer you a glimpse into real Nepali life and this gives visitors an opportunity to observe the rich Nepalese cultural tradition from the closest quarter and intermingle with locals, hence giving the visitor a sense of satisfaction.  
 
Besides it's the area also offer you, an excellent habitat for a wide variety of plants and animals; 526 species of plants (including 40 species of orchids), and 300 species of birds. Other interesting wild animals are the Himalayan Thar, Gaur, many kinds of Monkeys and musk Deer.
There are some interesting panoramic view points, which are called Singala pass, Pangsang Bhanjyang, Jaisal Kunda, Jyamrung. These places offer more than 40 mountains over 6000m (19'680ft.). 
We start our trek from Betrawati, after driving almost 5 hours from Kathmandu. Going through picturrsque village and unspoiled area of the country lead us to Singalala where mountain views are superb. From here we descend through beautiful village and finally get to Arughat where we catch our bus to Kathmandu. Trekkers carry only day pack and walk on their own pace. Average hiking per day will be 6-7 hrs.
Day 01 Arrival and transfer to hotel/welcome dinner. (D) 
Day 02 Day at Leisure /Hotel. (B) 
Day 03 Drive to Betrawati & trek to Chapdanda (1220m) (B, L, D) 
Day 04 Trek to Bhalche (2020m) (B, L, D) 
Day 05 Trek to Gonga (2800m) (B, L, D) 
Day 06 Trek to Rupchet (3720m) (B, L, D) 
Day 07 Acclimatization day, and hiking around the valley. (B, L, D) 
Day 08 Trek to Phedi (3546m) via Singla pass (4750m) (B, L, D) 
Day 09 Trek to Pansang Bhanjyang (4000m) (B, L, D) 
Day 10 Rest and hike around the valley (B, L, D) 
Day 11 Trek to Tipling (2500m) (B, L, D) 
Day 12 Trek to Sertung (2050m) (B, L, D) 
Day 13 Trek to Sapchet (1500m) (B, L, D) 
Day 14 Trek to Darkha (1250m) (B, L, D) 
Day 15 Trek to Lapang (1000m) (B, L, D) 
Day 16 Trek to Khahare (900m) (B, L, D) 
Day 17 Trek to Arughat (700m) (B, L, D) 
Day 18 Drive to Kathmandu/Hotel (B, L) 
Day 19 Day at Leisure/Hotel (B, D) 
Day 20 Drive to airport for return flight (B)

Note: The itinerary can be customized according to your duration of holiday. Similarly hotel can be upgraded or downgraded depend on your budget.