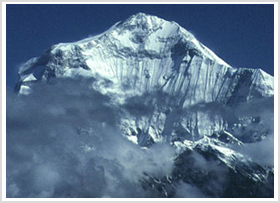 Around Dhulagiri (Dhulagiri trek) Just west of Annapurna is the 40 mile wide Dhaulagiri Himal. Dhaulagiri I, the sixth-tallest peak in the world, towers high above the well-trekked Muktinath pilgrim trail up the Kali Gandaki Valley. The vast massif screens the hidden lands of Dolpo to its north, and to the west of it are Nepal's far western hills. Only to the east along the Kali Gandaki Valley can we easily view the mountain close up, so massive Dhaulagiri with its symmetrical peak and four major outliners remains an enigma along much of its perimeter. Like fabled but restricted Dolpo, the complete month-long trek around Dhaulagiri is only for a handful of hikers. This is because much of the route traverses difficult, remote country.  
We start our trek from Beni, after long day drive from Kathmandu going through nice village in the beginning and through high and remote area of the glacier and passes later and finally come down to Marpha where we meet the main trail of Annapurna circuit or kaligandaki. Then, we join this trail and make the trek through kaligandaki valley and trek upto Muktinath, the gateway of Mustang. As this is Nepal's one of the most demanding trek and goes through glacier, French pass and Thapa pass, only experience trekkers should attempt this trek. Clients carry only daypack and walk on their own pace. Average hiking per day in Dhulagiri trek 6-7 hrs.
Highlights on this tour: 
Dhaulagiri Base Camp, high passes, Glacier trek, Hidden Valley, Muktinath Temple, Monastery visit, Superb mountain views, spectacular scenery, impressive display of wild flower, picturesque village such as Marpha and Kagbeni, deepest gorge of the world,  friendly people…….
Season: 
March till May & September till November
Tour grade: 
Extreme Challenging
Group size: 
From two persons
Departure date: 
Any day during season
Day 01 Arrival and transfer to hotel/welcome dinner. (D) 
Day 02 Day at Leisure /Hotel. (B) 
Day 03 Drive to Beni(810m) /  Camp(B, L, D) 
Day 04 Trek to Babichor (950m) (B, L, D) 
Day 05 Trek to Darbang (1030m) (B, L, D) 
Day 06 Trek to Sibang (1720m) (B, L, D) 
Day 07 Trek to Muri (1840m) (B, L, D) 
Day 08 Trek to Boghara (1990m) (B, L, D) 
Day 09 Trek to Dobang (2400m) (B, L, D) 
Day 10 Trek to Chartare (2820m) (B, L, D) 
Day 11 Trek to Pakabon (3585m) (B, L, D) 
Day 12 Trek to camp near glacier (3810m) (B, L, D) 
Day 13 Trek to Dhaulagiri base camp (4750m) (B, L, D) 
Day 14 Acclimatization at Mt. Dhulagiri Base Camp (B, L, D) 
Day 15 Trek to Hidden valley (4900m), French pass (5360m) cross (B, L, D) 
Day 16 Trek to Yak kharka (3990m), Thapa pass (5230m) cross (B, L, D) 
Day 17 Trek to Kaligandaki valley - Marpha (2667m) (B, L, D) 
Day 18 Trek to Kagbeni (2807m) (B, L, D) 
Day 19 Trek to Muktinath (3802m) (B, L, D) 
Day 20 Trek to Jomsom (2713m) (B, L, D) 
Day 21 Fly to Pokhara (850m)/ Hotel (B) 
Day 22 Fly to Kathmandu (1350m) / Hotel (B) 
Day 23 Day at leisure / farewell dinner /Hotel. (B, D) 
Day 24 Drive to airport for return flight. (B)
 
Note: The itinerary can be customized according to your duration of holiday. Similarly hotel can be upgraded or downgraded depend on your budget.