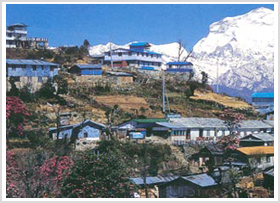 Situated in the western part of Nepal at an elevation of about 1700 meters (5,576ft),is very popular for mountain scenery. Here you can see panoramic views of Annapurna (8091m/ 26,545ft), Manasalu (8165m/ 26,781ft), Ganesh Himal (7446m/ 24,422ft), Dhaulagiri (8167m/ 26,795ft), Machhapuchare (the sacred mountain) and 25 other mountains over 6000 meters (19,680ft) high. This area also offers you views of the Pokhara Valley with all its natural beauty. Sarangkot is another spot renown for seeing the sunrise over the Himalayas. A dary Trip from Pokhara to Sarangkot and Overnight there next morning flying by Paragliding and down landing to Fewa Lake in Pokhara Valley .
Possible views of Mountains From Sarangkot: 
Machhapuchhre (Mt. Fishtail) 6993m, Annapurna I- 8091m., Annapurna II-7937m., Annapurna III-7855m, Annapurna IV- 7525m, Annapurna South 7819m, Varaha Shikhar 7847m, Himchuli 6441m, Dhaulagiri 1- 8167m, Dhaulagiri II- 7751m, Nilgiri 6940m, Thapa Peak 6015m, Tukche Peak 6920m, Mardi Himal 5588m. Singu Chuli 6500m, Tharpu Chuli 5663m. Gangapurna 7483m, Lamjung Himal 6931m.
Excellent landscape
superb mountain view
climb upto an altitude of 1700m
spectacular scenery
Abundant wildlife and flor and founa.
Buddhist culture nnd Temple , Hindu Temple, himalayan View, Lake View
Trip length: 8 Days 
Grade: Easy 
Starts in: Kathmandu 
Ends in: Kathmandu 
Accommodation: Hotel/ Lodge & Resort
Transportation: Private Transport 
Altitude maximum: 1700m 
Service: Guide, Accommodation with B/B Plan