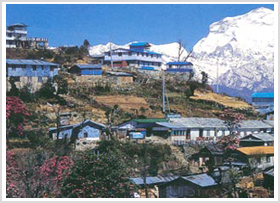 Pashupatinath Temple, Kathmandu, is dedicated to Lord Shiva, who is also known as Pashupati. This Hindu temple attracts a large number of tourists and pilgrims all throughout the year, especially on occasions like, Mahashivratri, Sankranti, Poornima, Grahana, Ekadasi and Teej Akshaya. The temple is located in a small town known as Deopatan, which lies on the northeastern side of Kathmandu.
History of Pashupatinath Temple, Kathmandu
The temple has many stories related to its origin. According to past records, it has been stated that the Jyotirlinga , which is another form of Lord Shiva was buried under the earth for several years and the place was filled with green grass. Every day a cow came here and offered her milk to lord Shiva. This was discovered by the gwalas (milkman) one day and soon they also started worshiping lord shiva after digging out his Linga from the ground. Soon, Lord Pashupati started being worshiped by one and all. The temple, which was built on this place, became a famous place for the pilgrims.
Renovation of Pashupatinath Temple, Kathmandu
According to Nepal's chronicles, a Linchchhavi King named Supus Padeva built this temple. However, other chronicles state that in place of the temple there was Devalaya in the shape of Linga. 

Shivadeva was a medieval king who repaired and reconstructed the temple during the period between 1099 and 1126 AD. Later the roof was constructed by Anant Malla. Later renovations of the temple was done by Javasimha Ramvardhana, then by Jyoti Malla in the year 1416 AD and finally by queen Ganadevi during 1578 and 1620 AD.
Features of Pashupatinath Temple, Kathmandu
There is an open courtyard. The temple has a pagoda which is square shaped. The temple lies on a 23.6 meters high platform. The temple has four sides and on each side there are doors made of gilt gold. The temple doors have small concavities that contain golden painted figures of Ashtha Bhairava, Apsara and various other deities. There are flying figures of birds in gold in the corners of the temple roof. On the corners of the temple, there are figures of winged lion, Ajarapurusa, griffin and Mahanaga. The carvings of sun, moon and Purna Kalasha inside the temple enhance the beauty and grandeur of the temple.
Santum of Pashupatinath Temple, Kathmandu
The sanctum of the temple is surrounded with a narrow path from where the visitors can have a view of the linga. The shivalinga is about 3 feet in height and has four sides. Bhattas are the priests who offer prayers and hold rituals inside the temple. The eastern face is called Tatpurusha, and the south facing is Aghora. Vamadeva and Sadhyojata are the north and east faces of the linga.